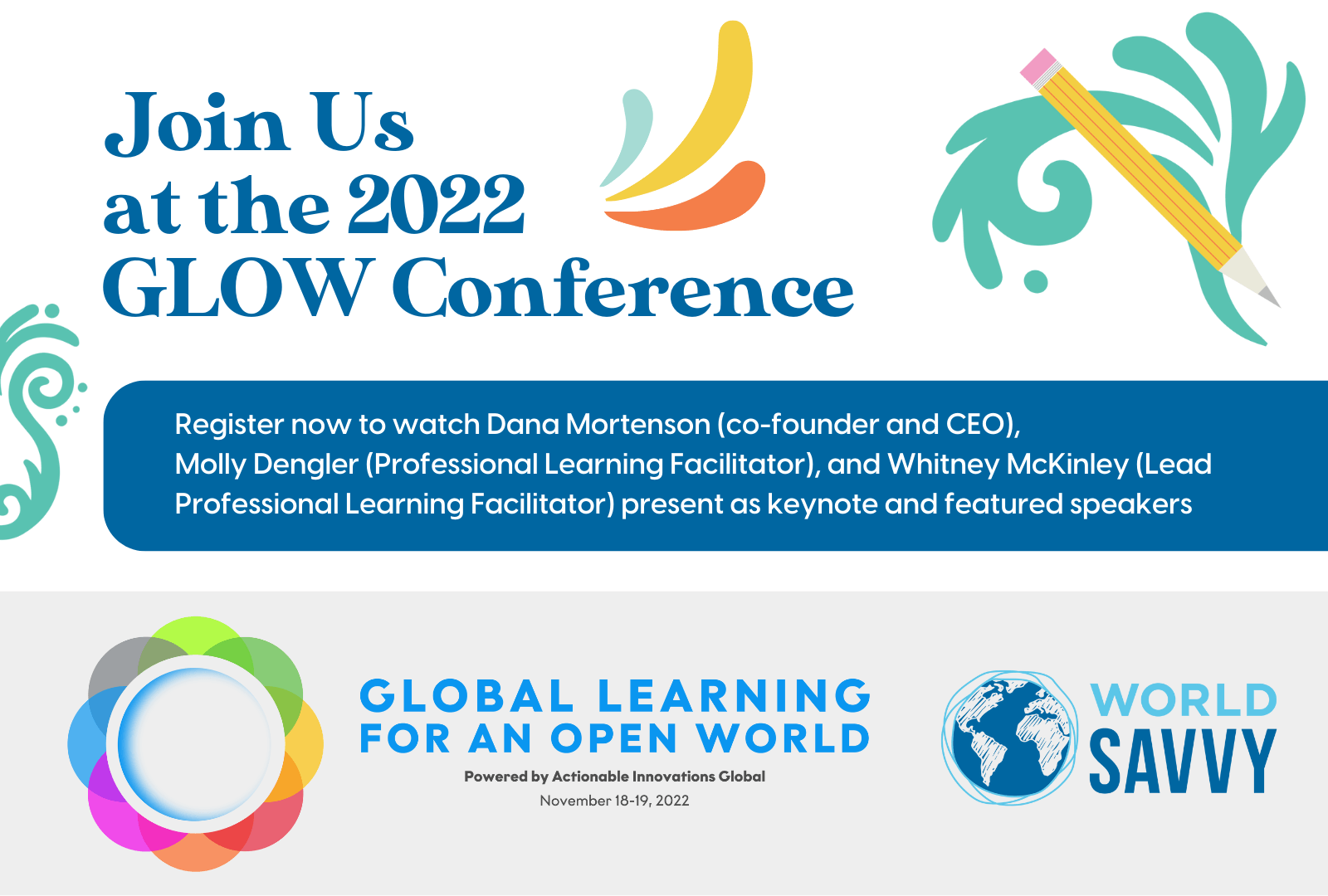 Actionable Innovations Global is hosting the first-ever digital Global Learning for an Open World (GLOW) Conference on November 18th – 19th, 2022. Actionable Innovations Global is a professional learning community for those interested in global education and innovation. World Savvy is thrilled to be featured as the premier partner, in addition to joining the tremendous list of keynote and featured speakers.
The GLOW Conference will create a dedicated space for global educators to connect and ideate around global competency. GLOW will offer 30 hours of uninterrupted digital content from education experts around the world. Sessions will range from keynote speeches to interactive workshops, and live interviews. All content is free to view worldwide.
To register for the event, learn more about featured speakers, and view complete schedules, visit the GLOW Conference website: https://hopin.com/events/the-glow-conference/registration
Don't Miss World Savvy's Featured Speakers:
Friday, November 18th:
Dana Mortenson
Global Competency for a Changing World  |  9:00 – 9:50 am CT
Dana Mortenson, co-founder of World Savvy, will explore how the larger 'global education' movement needs to evolve to support an inclusive framework all schools can use to create future-ready education. With significant political division and polarization in communities across the U.S. and K–12 schools often the arena where these battles play out, it has never been more urgent to embed global competency into teaching, learning, and culture in systemic ways—for civic engagement, workforce readiness, and global problem-solving. This keynote will explore this new landscape, describe promising innovative approaches that are propelling this movement forward, and outline how we can leverage the current legislative environment as a tipping point for this important work.
Molly Dengler, World Savvy Professional Learning Facilitator
Deep Inquiry for Global Competence  |  4:00 – 4:50 pm CT
How does inquiry support global competence development for our students and ourselves? In a world where we are inundated with information and misinformation every minute of every day, it has never been more important for young people to be curious, critical thinkers. This session will explore what actions educators can take to successfully use case studies to cultivate curiosity and build the essential skills students need to thrive in a global community.
Saturday, November 19th:
Whitney McKinley, World Savvy Lead Professional Learning Facilitator, and KK Neimann, World Savvy Director of Professional Learning
Centering Global Competence in the Classroom: Beyond Theory and into Practice  |  11:00 – 11:50 am CT
In this session, we will hear from teachers who have shifted their practice to center the development of global competence in their students. In a moderated discussion, these educators will share what works, what hasn't, and what keeps them committed to this work. This action-oriented session will focus on the fundamental shifts and changes that teacher practitioners have engaged with when ensuring that global competence is at the center of learning and teaching.
Dana Mortenson, Cindy Derrane, and Margo Fraczek
Educator Insight: Building Student-Centered Classrooms that Develop Global Competency  |  12:00 – 12:50 pm CT
Join veteran World Savvy educators and school leaders as they share perspectives on cultivating student-centered, inclusive, equitable learning environments that develop global competency. Using World Savvy's frameworks for inquiry and knowledge-to-action, these educators have embedded global competence deeply into their teaching and leadership. They will share how a student-centered approach to global competencies changes outcomes for students and the entire school community.