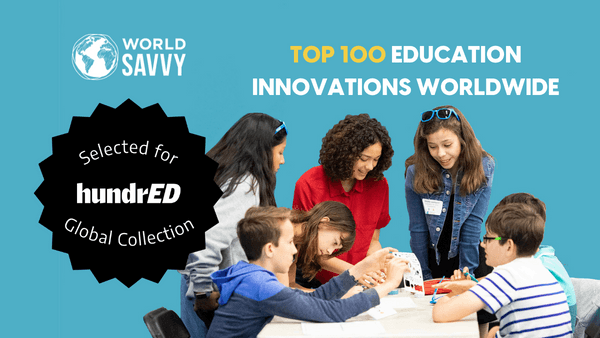 World Savvy is thrilled to announce that we have been selected as one of the top innovations in the world in the 2023 HundrED Global Collection. HundrED is a Finland-based, not-for-profit that discovers, researches, and shares inspiring innovations in K-12 education. 
Out of 3,488 worldwide innovations reviewed, World Savvy was among the 100 innovations from 54 countries selected, and only one of nine U.S.-based organizations. An academy consisting of 188 experts in education from over 113 countries reviewed the innovations.
"Innovations highlighted by HundrED are truly moving the needle in education reform around the world. Meeting the needs of students, parents, teachers, and communities, the innovations found in HundrED's database are a go-to resource for anyone looking to catch a glimpse of the wealth of possibility in education innovation and transformation," said Mike Dunn, Director of College Counseling, U.S.A. and member of the HundrED Academy Board.
The common threads across the selected 100 top innovations were:
A focus on teachers as the heart of education transformation and innovation.
21st Century Skill development also called "life skills" or "soft skills," which includes developing competencies through social and emotional learning, global citizenship, and entrepreneurship with a common focus on critical thinking and collaborative learning. 
Student well-being and mental health including the cognitive, psychological, physical, and social aspects that drive educational outcomes. 
Student agency and putting the student at the center of the educational experience to drive their own learning, develop their voice, and make choices about their educational experience. Agency is closely connected to student motivation, well-being, and a sense of meaning and purpose. 
Centering equity including diversity, gender equality, special needs education, inclusion, access, and human rights.
"We are thrilled to be recognized among so many other innovative organizations and to have the opportunity to share our work to build more inclusive, equitable, and future-ready K-12 learning environments with a global audience," says World Savvy CEO and Co-Founder Dana Mortenson. "It is a credit to our talented team and amazing network of school partners and leaders."
A review from the HundrED Academy included, "World Savvy has key principles of universal interest in a learning ecosystem that makes its spread and adaptability. It provides a tool that helps learners connect, share and collaborate joining efforts to solve global problems." 

The complete HundrED report can be accessed here. For more information about World Savvy's Comprehensive School Partnerships go to worldsavvy.org/our-programs/schools.