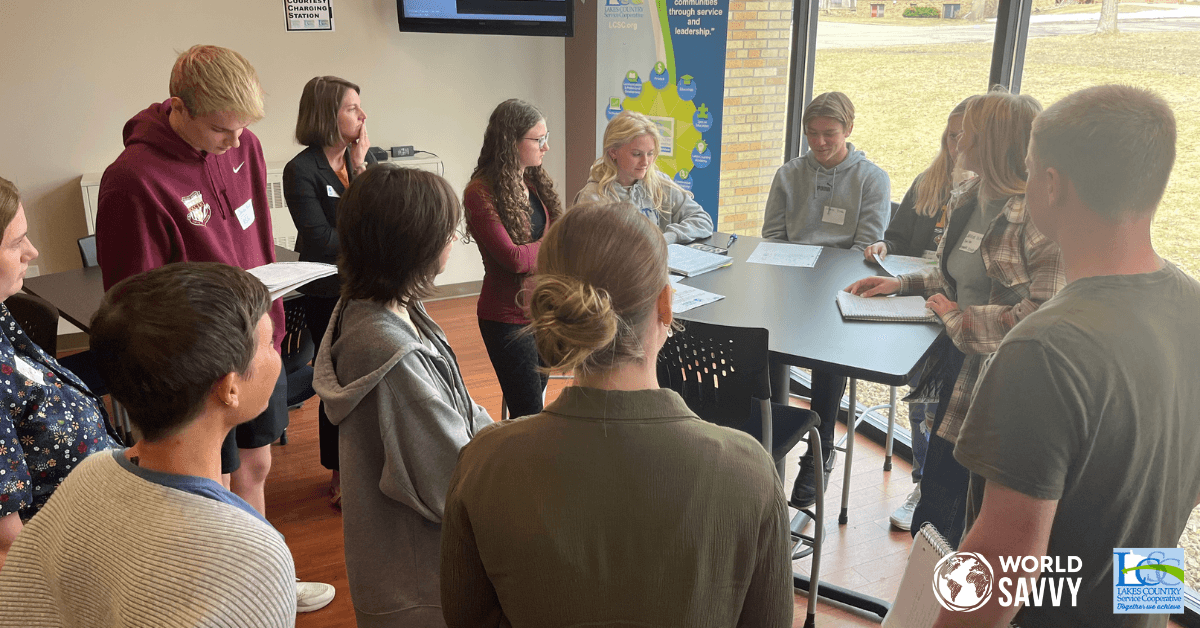 On April 13th, 2023, World Savvy and Lakes Country Service Cooperative (LCSC) brought together students and teachers from west-central Minnesota for a day of exploration and solution-seeking. Over 60 students were in attendance exploring the student-selected theme, "Promoting well-being for all at all ages."
The day-long event was sponsored by Blue Cross Blue Shield of Minnesota. Using World Savvy's Knowledge to Action (K2A) framework, youth learned from local experts and each other as they planned a co-creative response to a pressing local issue. Read more about how their day of thinking outside the box was explored.
"The goal is for the students to explore something that interests them and to learn how to think completely about something … when you are curious, what does it look like to understand it," mentioned KK Neimann, the director of professional learning for World Savvy. "How can we help them feel like what they are learning is relevant and to empower them to not feel overwhelmed with what is going on across the globe."
World Savvy's community-based Changemaker Hubs are designed to:
Help young people make connections between pressing global challenges and their local community.
Provide a forum for youth to share their perspectives about community needs and solutions.
Build the skills, capacity, and networks required to take informed action on issues of consequence.
Leveraging World Savvy's Knowledge to Action (K2A) framework, youth-led design challenges bring students together to create ideas for action in their local community. These steps help students identify an issue they care about, build their knowledge and understanding of the complexity of the problem they are hoping to solve, and support the creation of informed solutions designed to tackle the issue's root causes. Design challenges conclude with an opportunity for students to share their ideas with a broader community.
We are continuing to expand our work across the country. Connect us with a school or learn more about our school partnership opportunities.