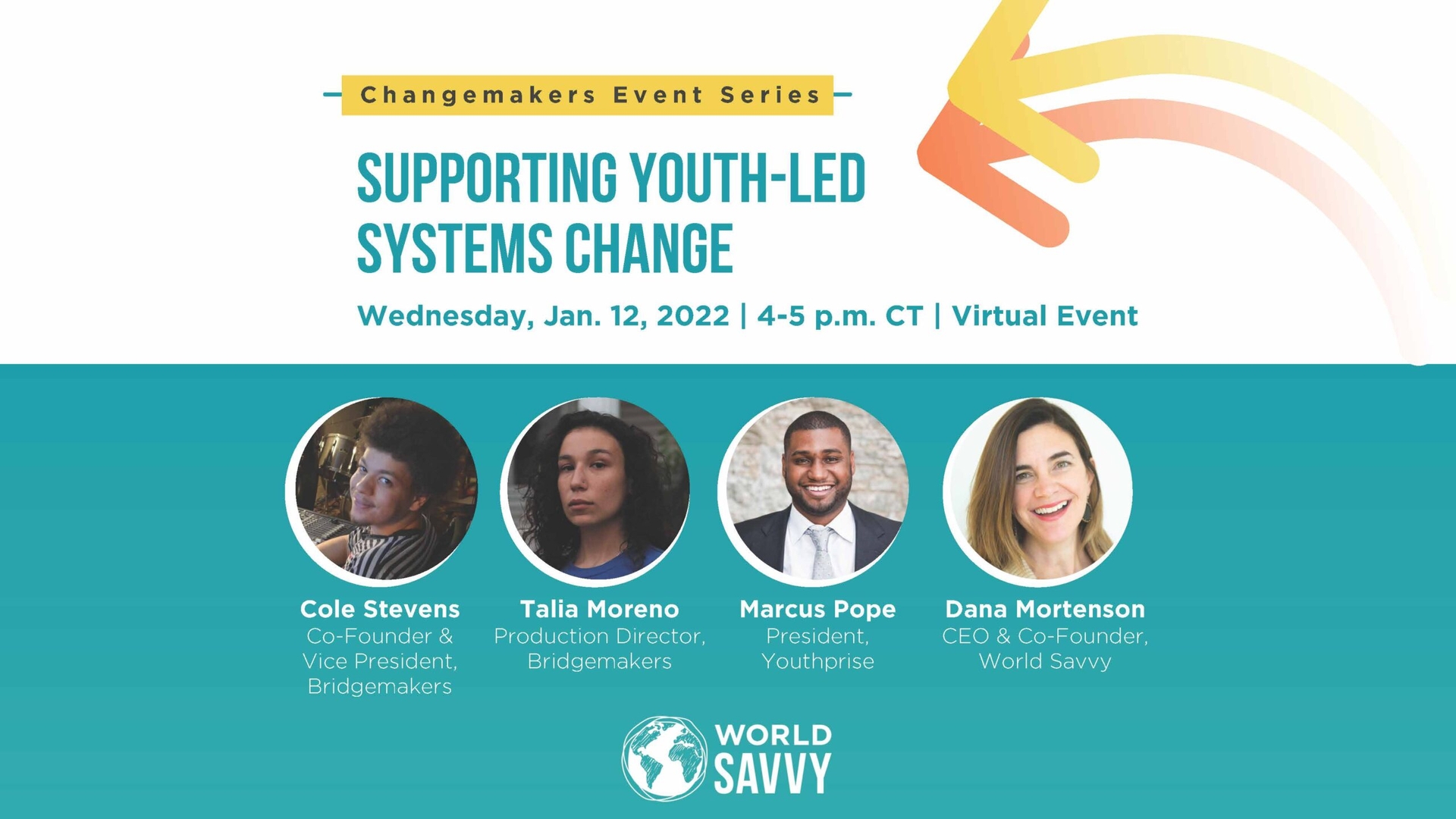 "Engagement efforts for youth are often developed and conjured by adults without a listening process. If you want deep learning, then you have to have engagement, and if you want engagement, then you have to know how it's defined by the people who are most proximate to the work."
– Dana Mortenson
Last month, World Savvy had the great fortune of partnering with youth leaders from Bridgemakers, Cole Stevens and Talia Moreno, and youth development leader and President of Youthprise, Marcus Pope. Together, they sat down with World Savvy's CEO and Co-Founder Dana Mortenson for our virtual event, Supporting Youth-Led Systems Change, and discussed real solutions to elevate student voices and collaborate with adults in meaningful and productive ways.
The conversation left us inspired and activated! If you didn't get a chance to join us, view a complete recording of the conversation.
Show that you care about the person. The adage is true: People don't care how much you know until they know how much you care. See young people as human beings first, before you see them as students. Their well-being and mental health matter above the grades or ability to get into college.
Listen with intent. Allow those closest to the issue to speak for themselves, and when youth do, make sure you are actively listening instead of thinking about or declaring your own thoughts or opinions. Ask more questions. Intentionally schedule time with young people, especially those who may be in an administrator or leadership position. Take a look at your calendar and ask yourself how often you hear from those who are the most impacted by your work.
Make everything more relevant. Engagement thrives on relevancy. Unfortunately, many of our systems for young people are not intuitively designed to support this, which means there can be an artificial separation between community and school. So, how can school be a way to reflect what young people authentically care about and what we actually want them to go out into the world and be able to do? This requires educators with great intentions to let go to create student-centered environments where students are leading, and educators are facilitating that process instead of directing it. "There is no reason schools shouldn't be community centers and places of innovation and ideas," Cole Stevens.
Be honest about what you can achieve and the timeline for change to occur. There are numerous entrenched systems and practices that prevent change from happening easily. Be upfront about what it's going to take to get something done. Young people can handle it.
Don't be afraid to challenge young people. Young people are not always right. Do not be scared to challenge the ideas you disagree with, just as you would with a fellow adult. Young people are smart, but they don't know what they don't know. Challenging youth when they are wrong is how they become better problem solvers. Do not sugarcoat feedback or paint an inauthentic picture. Youth want to understand the problem so they can help design solutions.
Value young people as experts. Don't expect students to always volunteer their time. They have jobs and bills to pay. Just as you would for adult experts, there might need to be some payment or credit for their time. Their lived experience matters and has value.
Consider starting small to build trust. Simply asking for youth engagement will not always result in immediate participation, mainly if there has been a history of authoritative decision-making. Recognize that young people have not always had supportive adults in their lives who value their opinion. You will have to earn their trust. Start small as a demonstration of your commitment. Their engagement will eventually follow.
If you invite a partnership with a young person, be prepared to act. Authenticity matters. If you say you want to transform the system, be ready to follow through with actions.
Be bold, be courageous and stand up. Don't be afraid to take a bold stand with youth if you believe in the change they are calling for. It won't always be easy to take a stand, but change cannot occur without courage.
Accept together that change is messy. Youth and adults may agree that a particular change is needed, but the strategy to create change may vary based on perspective. How diplomatic are we versus challenging and calling people out? Do we leverage social media, and how? You will encounter unexpected hurdles as you take one step forward and two steps backward. Recognizing together that the path to progress is rarely smooth will help you get back on track to achieving your goals.
Answers to Live Audience Questions 
Bridgemakers Event: Audience Questions
To hear about future opportunities like this one, follow us on social media and sign up for World Savvy news.
Donate to World Savvy
Donate to Bridgemakers
Donate to Youthprise