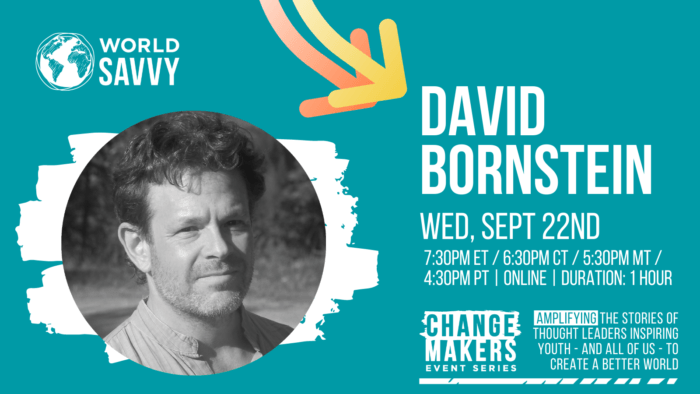 World Savvy is thrilled to announce our second Changemakers Series Event with journalist, author, and Solutions Journalism co-founder David Bornstein! On September 22nd, David will sit down with World Savvy CEO and Co-founder Dana Mortenson to talk about his groundbreaking work with the Solutions Journalism Network.
World Savvy works to help young people know more, care more and do more to improve their communities and address global challenges, and David and his work with SJN are foundational assets to enable this change. His work re-imagines media and journalism as focused on the changemakers, the solutionaries and the individuals and groups charting a path for positive change. This trailblazing work in our current climate of polarization could not be more timely or critical for engaged citizenship.
David Bornstein is a co-founder of the Solutions Journalism Network, which seeks to legitimize and spread the practice of solutions journalism: rigorous reporting that examines responses to social problems. He has been a journalist for 26 years and currently co-authors the Fixes column in The New York Times. His books include How to Change the World: Social Entrepreneurs and the Power of New Ideas, The Price of a Dream: The Story of the Grameen Bank, and Social Entrepreneurship: What Everyone Needs to Know. He lives in New York.